
Installation¶
Download the latest SharePoint Framework package (aequos-modern-data-visualizer.sppkg) from our public GitHub repository.

Add the package to your global app catalog or site collection app catalog. If you don't have an app catalog, follow this procedure to create one.

The solution is deployed in the general Office 365 CDN meaning we don't host any code on our side.

You can choose to make the solution available in all sites or force to install an app to the site every time.

The solution asks the following API permissions by defailt to enhance the experience. These permissions are not mandatory. If you don't accept them, you will simpy have less available features.

| Requested API permission | Used for |
| --- | --- |
| User.Read | The Microsoft Graph Toolkit persona card in the people layout. |
| People.Read | Same as above. |
| Contacts.Read | Same as above. |
| User.ReadBAsic.All | Same as above. |

Get a valid license from our website.

Register the Office 365 tenant ID where you want to use this solution. If you don't know how to get your tenant ID, you can refer to this procedure

If you chose a standalone license, you must follow these additional steps.

Add the Web Parts to a SharePoint and start building!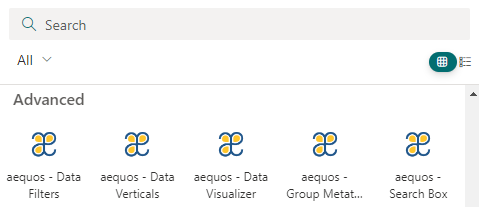 Get your Office 365 tenant ID¶
To get your Office 365 tenant unique ID, you can:
Follow this procedure OR
Download, deploy and use Web Parts without license and get the tenant ID from the error message or in the third Web Part configuration page: