Get a license
Licence types¶
You need a valid license to use the "Modern Data Visualizer" Web Parts. We offer two kinds of license:
Standalone: Valid lifetime.
Subscription: Annual engagement (with no automatic renewal).
Except their duration, these two licenses offer the same specifications:
All Web Parts included (Data Visualizer, Data Filters, Data Verticals and Search Box).
Unlimited users. The size of your organisation doesn't matter.
Free upgrades from our GitHub repository. However, no automatic upgrade process, you must manually update the package like a regular SharePoint Framework package.
One license per Microsoft 365 tenant ID. If you have two tenants (ex: DEV/PRODUCTION), you must purchase two licenses.
A license is not transferable between tenants.
Get a standalone or subscription license¶
You can get a valid license directly from our website or, if you prefer to receive a formal quote and pay with the registration of a PO number, contact us at mdv@sword-group.com. It will be our pleasure to answer you.
In both scenarios, we will need the Microsoft 365 tenant ID where you plan to use the solution. If you don't know how to get this information, you can use this online tool.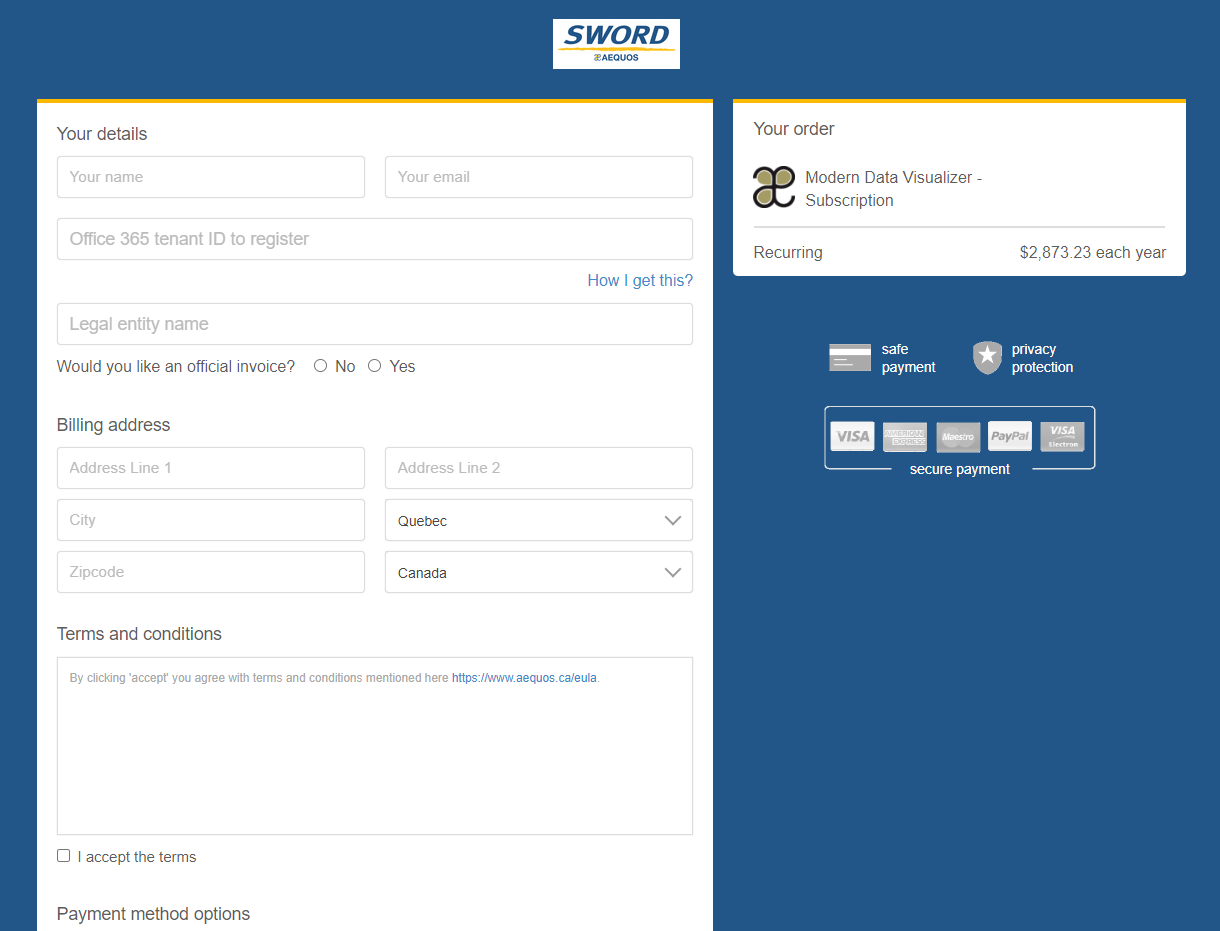 Set up the license key
If you chose a standalone license, we recommend to follow these additional steps to speed up validation process on your pages.
Get a trial version¶
Want to try the solution capabilities first? Sure! We offer a 14 days trial for the solution, no personal information nor credit card required. Just:
Download the latest solution package from our GitHub repository.
Upload and deploy it to a SharePoint site collection or tenant app catalog.
Add any of aequos Modern Data Visualizer Web Parts on a SharePoint page to automatically activate the trial license for your tenant ID.

Warning
The trial license is tied to a unique tenant ID. Once expired, you can't use the solution anymore in this tenant until you purchase a valid license.
Trial periods are not cumulative. However, if you need more time to evaluate our solution, simply contact us directly at mdv@sword-group.com.